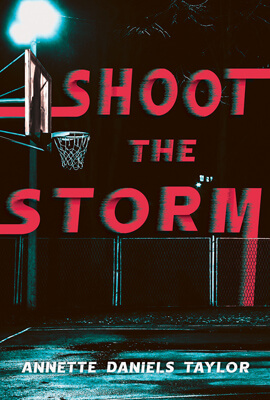 Reading Level: Grade 2 - 3 • Interest Level: Grade 9 - 12
Shoot the Storm
Author:
Annette Daniels Taylor
Specs:
5 1/2" x 8 1/4" • 200pp • Suggestions for Further Reading • Written in Verse • About the Author Section • Hi/Lo Content
HC ed.:
978-1-9785-9567-5 •
$25.80
|
$19.40
eBook:
978-1-9785-9559-0 •
$25.80
|
$19.40
Paperback:
978-1-9785-9557-6 •
$16.35
|
$14.20
Aaliyah is a star basketball player thanks to her dad, Boogie-G. Then she sees her father killed on the park basketball courts and completely shuts down. Now she's set on revenge. Aaliyah makes a deal with Land-Lord, a gang boss who promises to find her father's killer and arrange for his death in exchange for an unknown favor. Aaliyah soon realizes that getting even with her father's killer might compromise everything she's worked for in her life and on the court. She'll do anything to honor her father's legacy, but at what cost?
View Spread