If you could have dinner with one author, living or dead, who would it be?
I'd choose a living author — when you invite a ghost to dinner, you're the only one eating, and what if they decide they'd rather not leave…?
So I'd choose Neil Gaiman, who middle-grade readers might know as the author of Coraline and The Graveyard Book, but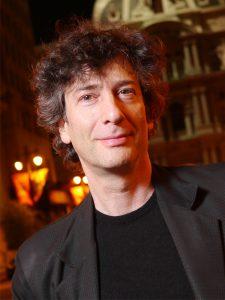 who really has done every kind of writing — adult novels, picture books, short stories, true stories, screenplays, comics, really great introductions, and New Year's wishes.
I'd like to have a conversation with him someday about fairy tales, myths, the monsters under beds and in our heads, and what words and stories can do, so why not over dinner?
In The Z Team, Chloe, Malik, and Justin are best friends who accidentally unlock a portal to the supernatural. Did you have a love of all things spooky growing up, too?
I did especially love ghost stories around bonfires – both when I was the younger kid listening and the older kid retelling them. I did also go into the woods in my neighborhood with friends, although we weren't supposed to, hoping to find something a little spooky… but not too spooky. I also loved playing Ghosts in the Graveyard after dark — though the one time my sports team had a practice in the cemetery, in daylight, where we played hide-and-seek for "fun", I was absolutely terrified. I scared more easily than The Z Team!
I'd pick up any story with a little bit of magic or mad science or monsters– but then I never wanted to go up close to the mummy in a museum or cut through a cemetery on a walk home. I'd double check closets or be the first to jump at a weird reflection or noise or shadow… I knew how all the ghost stories went, and no one ever knows what kind of story they're in, do they? 
Zombies are invading! If you could choose any 3 people to be on your Z Team, who would they be?
With apologies to my friends, I'd choose my brother, my sister, and one of my cousins. (I have a lot of cousins, so I'm not going to say which one. They can guess.)
Who or what inspired you to become a writer?
I'm always telling myself a story or two (or seven) – but my favorite part has always been telling them to someone else. Writing them down was a way to both get the story right and a way to get people to listen.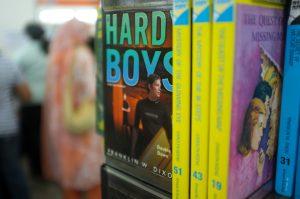 I really loved all the series coming out when I was very young — my favorites were "super mysteries," both the Baby-sitters Club Super Mysteries and the Nancy Drew & Hardy Boys Super Mysteries, but also Animorphs and Junior Jedi Knights. Reading so many ongoing adventures about the same characters, I'd make up my own, extra stories for them. Some of my first dreams of writing were more about taking over stories, getting to decide what happened, or keeping the series I loved going forever, before it became about making up my own.
When it comes down to it – I really don't remember a time when I didn't want to be a writer. No matter what job I have, I'll always be a writer. It's an essential part of who I am.
Name the two books you'd take with you on a desert island.
If I was going to be stranded on that island, I'd want to cheat and take as many stories in one book as possible — so my copy of Grimm's Fairy Tales would be one of the two, always.
The second one is a much harder call – today, I think I'd go with Harry Potter and the Prisoner of Azkaban, my favorite book in one of my all-time favorite series, but on a different day, I might give you a different answer.
Some themes we noticed in When Zombies Invade are teamwork, and the idea that everyone has their own personal strengths that they bring to the table. Are their any personality traits of Chloe, Malik, and Justin that you may have "borrowed" from real people in your life?
None of my characters match up to anyone in my real life, though of course they all have a piece of me. I steal slivers from life here and there — I have a cousin who loves using an action camera; I have friends who love ghost story podcasts; I had a professor who knew just where a wire fence was loose and could be lifted up to duck under one at a time (though that was from a class trip to explore a castle ruin.) But a lot of it, too, is just from my imagination.
I'd say the real-world influence for their personalities would be a number of different kids I met during my adventures in baby-sitting —  little girls with surprisingly unshakeable confidence and fearlessness, boys who were more bookish and shy but talkative when you got them going on a subject they care about, kids who were naturally easygoing and funny and smarter than they gave themselves credit for. 
Do you relate to any of the characters in the book?  If so, how?
Except for the zombies, I relate to all of them! I even would say I relate to Chloe's older sisters and Justin's jerky older brother at the times when they're just not paying enough attention to their younger siblings or taking them seriously — I'm the oldest in my family, so there's been times in my life when I've done that.
There's certain sides of each of the main characters that are more "me" than the other parts of their personalities. The way Chloe's been waiting for an adventure like her TV shows and jumps at the chance for one, or how Justin can be a bit of a know-it-all or nervous whether his friends really want to hang out with him, or how Malik in particular thinks creatively and in terms of stories — those are all pieces of who I am, or who I was at their age.
How do you fend off writer's block (aka zombie brain)?
I think zombie brain actually describes the way I get stuck when writing better than "writer's block" does. I don't usually get truly blocked, but I get too tired.
I have a few things that work. One is deadlines. Setting deadlines for yourself is trickier than the hard deadline of having something due for, say, school, but I work much better when I have a deadline.
Another way I fend off zombie brain is — if I'm not excited about telling a story, I don't make myself tell that story. I step back. Sometimes I think about it on a walk or a run. Why isn't this story exciting me? If I'm not enjoying writing it, will anyone enjoy reading it? What would I enjoy reading at this part, instead? It sometimes means going back and reconsidering a whole chapter, changing the original plan, or even starting a story all over, but ultimately, that's the way I wind up with a story I am happier with. A story I want to read.
And my goal, always, is to write a story I would want to read.