Do you relate to any of the characters in the book?
Yes, I relate to Shanequa and Miss Precious.
Shanequa because I know what it feels like to be the new kid outsider, to feel like you don't really belong or deserve to be in a particular place. In middle school, I became the only black girl in the class. It was awkward and uncomfortable. I spent way too much time trying to convince my white classmates I was just like them when I wasn't. We all had very different experiences and lifestyles. But I didn't want anyone to think that living in projects meant I was a hoodrat. So I spent a lot of time trying to emulate my white classmates, and they spent a lot of time trying to find out what a black girl was because none of them had any black friends.
I also relate to Miss Precious because she is who I am now.
If you could have dinner with any writer, living or dead, who would it be? 
Erykah Badu and Langston Hughes.
What book have you reread the most?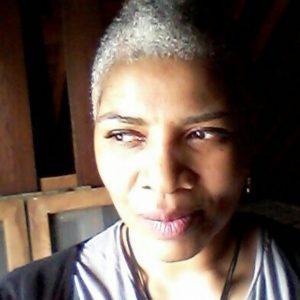 My Name is Black, An Anthology of Black Poets, edited by Amanda Ambrose. It was published when I was in 3rd grade. I got it from those school book club catalogs that you get really excited about. It was the first book of poetry I ever bought, and I learned about poets and American history from a Black poetic perspective. I still have it and read it when I need it.
If you created a playlist to accompany this book, what songs would be on it?
I'm real old school so "Penitentiary Philosophy" by Eykah Badu, "The Miseducaton of Lauryn Hill" by Lauryn Hill, and "Cranes in the Sky" and "Don't Touch My Hair" by Solange Knowles.
Why do you like poetry as a medium?
It challenges me to condense my words by being specific to the emotions and actions.
Are there any poems you can recite from memory?
"We Wear the Mask" by Paul Lawrence Dunbar. "The Incident," by Countee Cullen, and "I Know Rivers" by Langston Hughes. 
Would you rather speak in verse for the rest of your life or only be able to write in prose?
Neither. I think I'd rather be silent if I couldn't write any way I choose.
How do you hope your book can positively influence someone's life or decisions?
I hope readers will believe in their power, their truth, and their dreams without fearing what others maybe feel or believe.
Do you have any advice for any poets looking to hone their craft?
Write, write, dream, argue, live, sleep, love, cry, laugh, scream, and then write some more…
Annette Daniels Taylor's Author Website