West 44 Books' forthcoming (April 2022) verse novel Chiara in the Dark received a starred review from Kirkus. The book, by author Maya Chhabra, is about how a vibrant, successful teenager copes with intrusive and disturbing thoughts through therapy.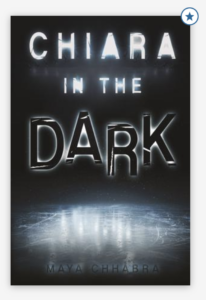 "An aspiring figure skater is shaken when she begins having violent and unwanted thoughts in this powerful novel in verse for reluctant readers.
In many ways, Chiara Benedetti is an ordinary high school senior. She and her best friend, Olivia, spend their free time at the ice skating rink; Chiara dreams of skating at the collegiate level. To earn some money, Chiara begins babysitting for her downstairs neighbors, the Guptas, caring for their adorable toddler, Julie. Everything changes when Chiara suddenly begins to imagine hurting Julie while she's in her care. Terrified that she'll get into trouble, Chiara doesn't know what to do about her intrusive thoughts. It's not until her parents find her a therapist that what is happening becomes clear: She is struggling with OCD. Chhabra details the extensive and often grueling treatments Chiara goes through with compassion while realistically depicting both Chiara's pain and her immigrant parents' struggle to understand why their child's personality has altered. As readers follow Chiara's story, which is narrated in clear, direct, first-person poems, they will be heartened to discover that treatment options are out there, and they will be rooting for her as she learns to manage her illness. Chiara's mother is Indian, and her father is Italian.
A sympathetic and ultimately hopeful story of strength." (Verse novel. 14-18)
—Kirkus
Browse the book, see more information, and purchase for your collection.