Kate Karyus Quinn is an avid reader and menthol chapstick addict. After living in both California and Tennessee, she returned to her hometown of Buffalo, New York, and now lives there with her husband, three children, and one enormous dog. She is the author of young adult novels Another Little Piece, (Don't You) Forget About Me, and Down with the Shine.
How did you feel when you learned that your book was the top SEL YA title in 2021, as checked out in a digital format?
I was thrilled! Not Hungry came out in 2019, and to know that it's still finding readers several years later is wonderful!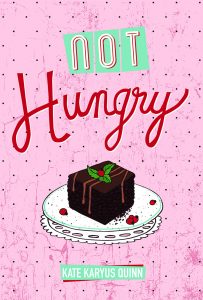 What is your favorite part of Not Hungry?
I really love the ending. I always have a vague idea of where a book will end, but this one when I got to the very ending, it was like the perfect final lines just appeared on the page.
How does writing in verse affect your writing process?
It is slower. Even though there are less words on the page, you have to make sure that every single word counts.
Much of your book has to do with secrets. Can you say more about why that idea interested you and how it is part of developing plot and/or character in the novel?
I think in the teenage years you are so uncertain of who you are that so much of who you are is almost a secret from yourself. And as you slowly figure things out, it's hard to reveal aloud these new pieces of yourself. It's the fear of being laughed at or being rejected.
What are some of your favorite books and/or authors?
Oh wow. So many. As a kid I loved everything by L. M. Montgomery. As an adult, I read widely, going from literary novels to historical romances.
Anything else you'd like to share?
You can find me at www.katekaryusquinn.com.
I'm also on Twitter, Instagram, and TikTok with the username @katekaryusquinn.
About Not Hungry:
June is fat. June also has an eating disorder, but no one sees. When she doesn't eat, her friends and family think they see a fat girl on a diet, not someone starving herself. When June's secret is found out by Toby, the new boy next door, she is panicked. Then she learns he also has a secret. Everyone has their own little lies. Buy the book now.