Two more titles now available from the ongoing elementary series Izzy Jeen the Big Mouth Queen!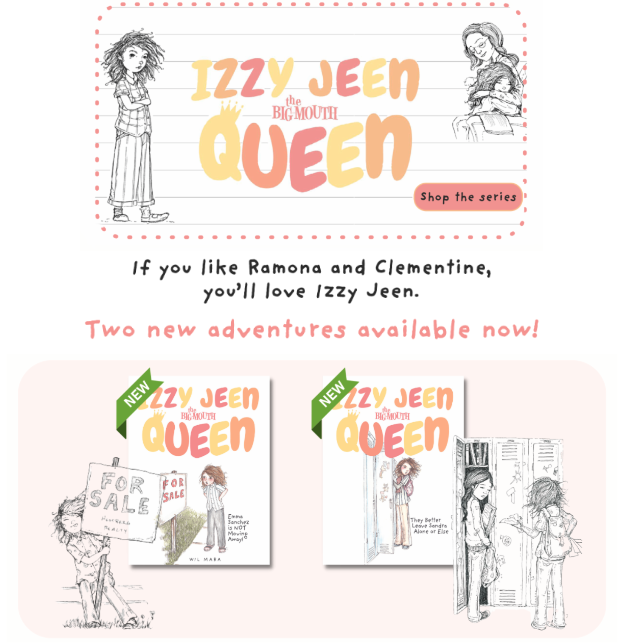 Izzy is determined to get her way, no matter what. Nicknamed Izzy Jeen the Big-Mouth Queen by a classmate, she can't always control her words or temper, and that can lead to big trouble! Through her adventures and misadventures, Izzy learns how to fight for what's right. This funny, relatable series full of mischief and adventure serves as an excellent introduction to chapter book reading, supporting developing readers and proficient readers alike.
Emma Sanchez is Not Moving Away: Izzy loves to hang out with her best friends—Emma and Lissa. When Emma tells Izzy that she's moving away, Izzy vows to find a way to keep it from happening. From sneaky phone calls to stealing signs, Izzy will do anything to make Emma stay. But Izzy's schemes aren't working, and Emma only has so many days left in town. Time is ticking on Operation Best Friends Forever.
They Better Leave Sandra Alone or Else: Izzy finds a friend in Sandra Hashimoto, a new classmate who just moved from Tokyo, Japan. So when Izzy discovers that kids are targeting Sandra with hurtful notes, she's ready for revenge. Izzy sets out to embarrass the kids who were mean to Sandra, but her plans just keep making things worse. How can Izzy find a way to fight for justice if no one will let her fight?